Powerflex Bushes
Powerflex
has wide experience of automotive suspension and chassis systems and combining these design skills with advanced polyurethane manufacturing techniques led to the development of the wide range of high performance automotive polyurethane components now known the world over by the product name POWERFLEX.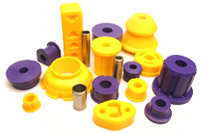 The company operates in a self-contained state of the art factory, manufacturing everything in-house.
The stainless steel components are machined on the latest computer controlled equipment to ensure perfect repeatability and quality.
The moulding and tooling, design and manufacturing is carried out within the factory ensuring very rapid response time to special projects
---
Showing 18 of 18 Products